In view of the global trend of emphasis on risk management, SYSTEX has improved the risk management mechanism to reduce the impact of risks, improve operational efficiency and corporate resilience in response to risks, and increase competitive advantages to implement sustainable operations. At the end of 2022, SYSTEX has established a cross-divisional Risk Management Committee under the Board of Directors, and formulated "Risk Management Best Practice Principles", "Risk Management Policies and Procedures", "Rules of Risk Management", "Rules of Strategic Investment Management" and "Rules of Supervision and Management of Subsidiaries" to effectively control risks and improve management efficiency.
Risk Management Policy and Principle
Risk Management Goal

The SYSTEX Risk Management goals aim to consider and manage various risks that may affect the achievement of corporate goals through a complete risk management structure, and to achieve the following goals by integrating risk management into operational activities and daily management processes:

Achieve corporate goals
Improve management efficiency
Provide reliable information
Allocate resources efficiently

Risk Management Principle

Integrated
Customized
Dynamic
Inclusive
Employee and cultural
Structured and comprehensive
Effective use of information
Keep improve
Risk Management Organization
SYSTEX strengthens risk management with the Board of Directors as the highest governing body. A Risk Management Committee is established under the Board's supervision to integrate risk management and supervision into daily activities and achieve sustainable operations.
Risk Management Organizational Structure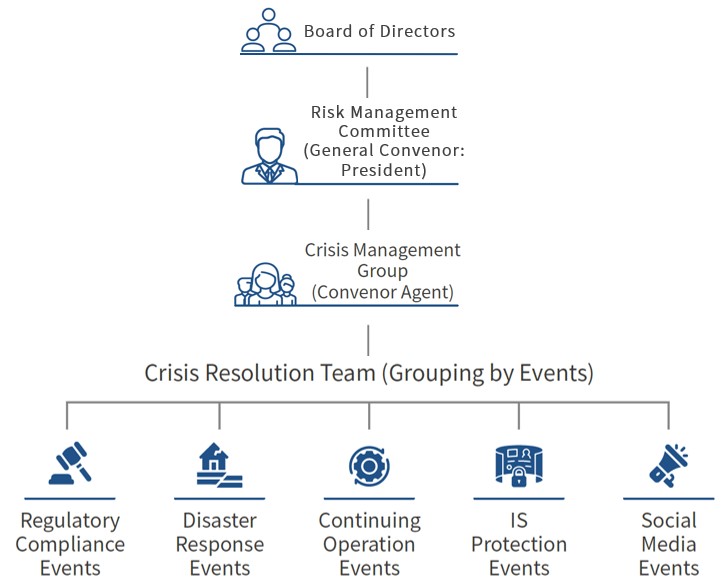 The Risk Management Committee executes risk management policies and reviews them periodically, and is accountable to the Board. They determine risk tolerance, prioritize risk management, and report on progress to the Board at least once a year or submit proposals for Board approval.
The Crisis Management Group develops risk policies, procedures, and frameworks. They establish risk metrics and tolerance levels, analyze company risks, and oversee and coordinate risk management activities across departments. The Crisis Management Group is responsible for enhancing risk awareness among the entire organization with training programs. The Group is consisted of a number of functional division head of "Financial Division, Business Management Division, Legal Division, HR Division, Data & Info. R&D Division and BU/BI". As a result, the Crisis Management Group held a meeting quarterly, with a total of 4 meetings in 2022.
The Crisis Management Group has set up the Crisis Resolution Teams, grouping by crisis events. These teams are immediately activated when a crisis may occur, and are responsible for identifying the main causes of the crisis and dealing with the situation according to the "Rules of Risk Management."
Crisis Management Procedures

Risk Trends and Material Issues
According to the WEF's "Global Risk Report 2023", the major risks closely related to SYSTEX include the risks of "Failure to mitigate and adapt climate change, Natural disasters and extreme weather events, and Widespread cybercrime and cyber insecurity". At the same time, although the Covid-19 epidemic is gradually easing, the threat of other mutant viruses continues to emerge due to rapid changes in the global environment, thus creating potential risks of operational disruption. In addition, in response to the increasing international awareness of human rights, risk assessments on human rights issues are also conducted. SYSTEX also plans and implements management actions for preventing these risks.
For more details on these risks, please click the following links: