Sustainable Governance
GRI 2-9, 2-12, 2-14,
GRI 2-22, 2-23, 2-24
SYSTEX established the "Sustainability Group" in 2020, with the highest governance level being the chairman of the Board. In 2021, SYSTEX set up the Chief Sustainability Officer (CSO) to serve as the leader of Sustainability Group and to coordinate 3 ESG teams: "Environment Team, Social Team, Corporate Governance Team", to be responsible for the planning and execution of ESG projects. In August 2022, the Board has approved the "Sustainable Development Best Practice Principles", which stipulates the Board is responsible for the supervision and promotion of sustainable development affairs. Meanwhile, the CSO will irregularly report the progress of ESG projects to the Chairman and report the performance of sustainable affairs to the Board every year.
In accordance with the "Sustainable Development Policy", the 3 ESG teams, led by the relevant division heads, are responsible for the promotion and implementation of material issues based on the PDCA management cycle. The ESG teams integrate sustainable development strategies into daily operations, and practicing a sustainable spirit of continuous improvement. When compiling the sustainability report every year, the 3 ESG teams assist in the inventory collection of relevant indicators. After completing the sustainability report, the 3 ESG teams assist a third party in the verification or assurance of the sustainability report. Finally, the sustainability report is reviewed by the CSO and submitted to the Board for approval before issuance.
In order to improve the implementation of the sustainable development affairs, the "Sustainability Group" held 3 meetings in 2022 (2022/3/10, 2022/9/13, 2022/12/27), and the CSO reported the ESG project plans and progress to the Chairman from time to time, and then reported the performance of the sustainable affairs and the promotion plan for the next year to the Board on December 21, 2022.
Organizational Structure for Sustainable Development Promotion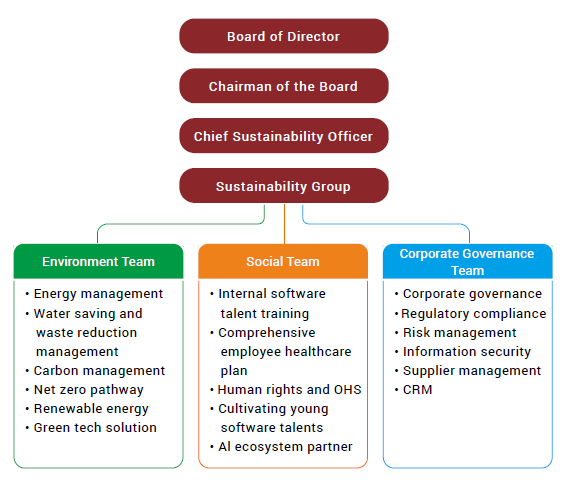 Sustainability Group Management System