Occupational Safety and Health
Based on the "Occupational Safety and Health Act" and other related laws and regulations, SYSTEX has formulated the "Safety and Health Work Rules", which applies to workers in SYSTEX and its affiliates and non-employees, such as security guard, etc. SYSTEX also set up an "Occupational Safety and Health Committee", attended by OHS managers and the supervisors, BU heads and labor representatives, to discuss OHS-related issues in order to maintain workplace safety. In 2021, SYSTEX has passed the ISO 45001 certification.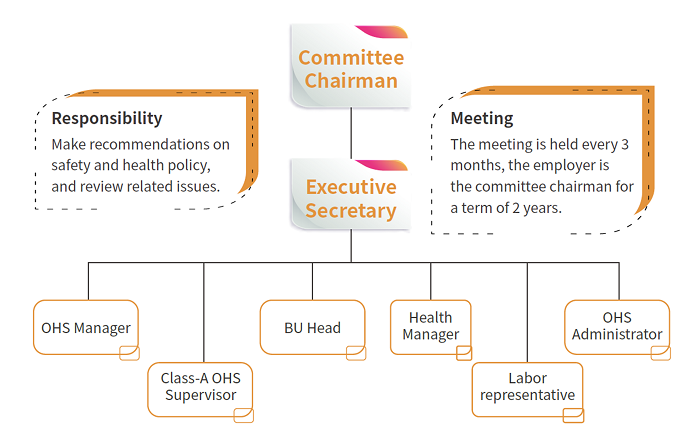 SYSTEX has conducted risk assessment of OHS in accordance with the "OHS Standard Operating Procedure" and ranks risks based on impact and possibility, formulates corresponding measures and checks performance irregularly, to ensure the effectiveness of measures.
Employee Engagement, Consultation and Communication
The "OHS Committee" holds regular meetings, with 4 meetings in 2021 to coordinate OHS-related affairs, to discuss "management and training plans", and to promote related projects, so as to enhance OHS awareness among employees and make them comply with regulations.
Occupational Health and Safety Training
In order to build up OHS awareness among employees, SYSTEX plans to hold the "New Employees Training Camp" to teach OHS-related courses and practical exercises, such CPR and AED. In 2021, 10 in-class courses were held with a total of 602 participants and 903 hrs., while a total of 430 people participated in online course with a total of 442 hours. Additionally, SYSTEX assigns relevant personnel to participate in OHS training, such as the certificate of "Class-A OHS Supervisor" and "Class-B OHS Technician Certificate", etc. In 2021, SYSTEX has obtained a total of 45 licenses with a total of 766 training hours.