Cultivate Software Talents
Education is the foundation of a country's sustainable development. As global technology changes rapidly, it will drive governments and enterprises to promote digital transformation. Therefore, how to strengthen Taiwan's software core capabilities has become one of the most concerned sustainable issues of SYSTEX.
Adhering to the core value of cultivating software talents, SYSTEX develops full-stage training programs across elementary school to university and graduate school to provide the most suitable software training resources for each learning age, such as programming camps, practical projects, overseas visit, scholarships and internships, etc., hoping to cultivate more outstanding talents and improve the digital competitiveness for Taiwan.
In order to inspire children's interest in software, SYSTEX held "Coding Seeds Camp" since 2017, planning a programming course suitable for elementary and junior high school students, hoping to cultivate their software engineering thinking and programming skills in advance, and developing their self-learning, innovation, and practical problem-solving ability. SYSTEX also encouraged the children of employees and customers to participate in this camp, so as to strengthen the relationship with customers. As of 2020, the camps have been held 4 times, with a total of 535 children aged 10~14 participating in. In 2021, the camp was suspended due to epidemic prevention.
The Largest High School Programming Competition held by Taiwan Enterprise
SYSTEX attaches great importance to the cultivation of software talents. In 2021, the 6th "Young Turing Program, YTP" has been held, rooted downward to the "junior high school students" for the first time, attracting a total of 274 teams and 804 participants from 131 junior high schools and senior high schools across Taiwan. In addition, in accordance with the global trend of gender equality and promotion for women's participation in the field of information engineering, SYSTEX designed the "Guaranteed Quota for Women" mechanism, as a result of 101 female students participating. We hope that in the future more women will join and show their best performance in the field of information engineering.
For 6 consecutive years, a total of 2,010 students have participated in the YTP. In 2021, the number of participants and teams hit a record high, with 804 students of 231 senior high school teams and 43 junior high school teams all over Taiwan, especially including eastern and southern high schools. Besides, SYSTEX also provides full transportation subsidies for participants from eastern Taiwan and the south of Taichung (incl.), encouraging participants in remote areas and contributing to reducing inequality in educational resources.
The 2021 teams performed excellent, with 12 teams conducting research on topics of Metaverse, NFT, Information Security, AI, Big Data, Blockchain and IoT, etc. Meanwhile, SYSTEX also invited professors from relevant departments of NTU, NTUST and SCU to guide students to creatively implement and solve social problems.
SYSTEX Volunteers Participate in YTP Promotion
In order to enhance positive impacts on students, SYSTEX called for employees as volunteers to promote YTP in many senior high schools. For the 6 consecutive years, we have reached a total of 2,488 high school students to know more about YTP. In addition, more than 34 people, who have qualified as representatives of the Taiwan International Information Olympia Competition, also participated in the YTP. By the end of 2021, a total of 242 SYSTEX volunteers assisted in promotion and guided the implementation of team projects. SYSTEX also invited students who have attended the YTP to help and share their programming experiences with new participants.
Variety of Cultivation Resources

Since 2014, SYSTEX has launched "SYSTEX Elite Internship, SEI" program, which provides 100 internship places every year, allowing college students to understand the actual work situation of software engineers. Throughout the internship process, SYSTEX assigns mentors to guide the interns to combine school learning with industrial practice to accumulate future outstanding talents!
The purpose of SEI program is to give students an early experience in the workplace and help them find their future career direction before graduation. In 2021, the SEI program was suspended due to epidemic prevention. Through SEI's comprehensive planning, the transfer rate of interns, who participated in internships in 2020 and became permanent employees in 2021, has increased.
In 2021, SYSTEX has conducted the 2nd "SYSTEX Cloud School" program for cloud and next-generation IT talents, connecting industry needs with academic talents, cultivating college students or master students who are willing to develop towards Cloud, AI, HPC. Therefore, SYSTEX provided 3-stage training courses, including 33-hour cloud basis courses, free quota for Red Hat certificate courses and the SYSTEX internship, so as to cultivate world-class cloud technology talents for Taiwan industries.
The basis courses of 2nd SEI invited professors from NTUST, NCU and FCU and other experts to teach the concepts of cloud and AIoT. A total of 163 students from 46 universities and colleges participated in the basis courses, an increase of 167% from 2020, and then 50 students were screened to enter the 2nd stage of certificate training. Ultimately, 22 students were selected for SYSTEX internships, working together with SYSTEX cloud experts.
X School Software Academy
SYSTEX has held the first "X School Software Academy" in 2021. For young people aspiring to become software engineers, SYSTEX provides 8~10 weeks of pre-job training according to industry needs. After entering the program, mentors will lead them to develop problem-solving and logical-thinking skills, and accumulate development experience.
In 2021, a total of 74 people participated in the program. During the training period, SYSTEX provided each person with a monthly study allowance of NT$30,000. After completing the training, they may receive a salary of more than NT$40,000.
Cultivate Interdisciplinary Talents
NT$70M to Cultivate World-Class Medical and Technological Talents
With the maturity of AI technology and the increasing demand for applications in the medical field, SYSTEX donated equipment worth more than NT$70M, including a "Genomics Analytics as a Service, GAaaS" and several high-speed network switch for "High Performance Computing", to build a world-class "Gene Analysis Laboratory" for National Yang Ming Chiao Tung University (NYCU). Meanwhile, SYSTEX also cooperated with them to set up an industry-academia collaboration project, which provides students with study subsidies during their studies and job opportunities in SYSTEX after graduation.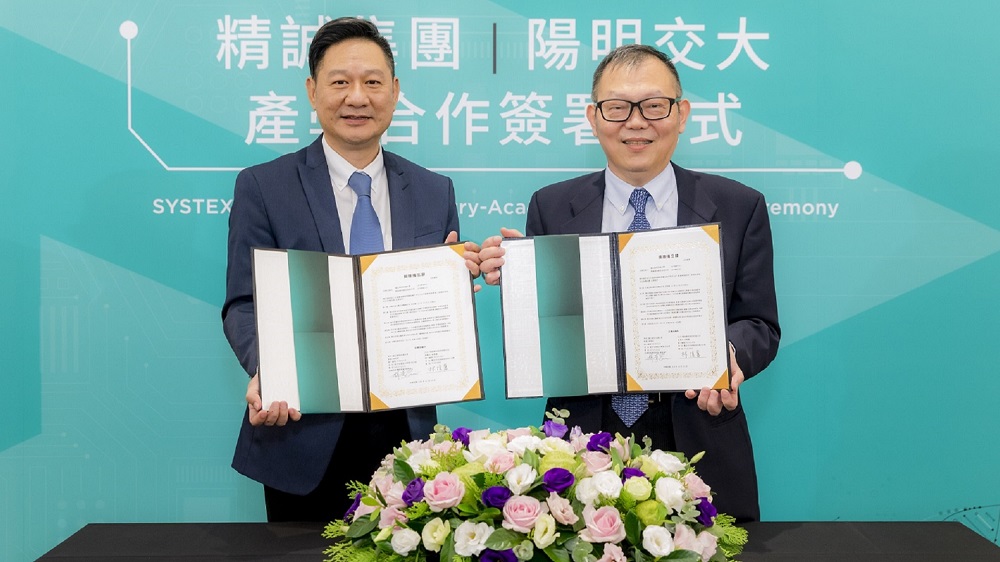 Corporate Visits and Campus Lectures
In 2021, due to epidemic prevention, the SYSTEX headquarters building was not open to the public for visitors, so that SYSTEX has only arranged 1 online meeting for the "Summer camp" of the computer information clubs of National Experimental High School at Hsinchu Science Park (NEHS), National Hsinchu Senior High School (NCHS) and National Hsinchu Girls' Senior High School (NGHS), with a total of 60 participants.
In order to promote the inheritance and sharing of experience, SYSTEX held several campus lectures with its senior executives, so that students can understand the industrial trends and practical experience. There were 14 campus lectures with topics such as "Job Preparation in the Post-epidemic Era", "Current Situation and Challenges of Enterprise Digital Transformation", "Software Engineer Career Planning" and "Strengthen Ability to Meet Future Challenges", "Practical Experience in Software Development of Mobile Application", etc.
Information Security Esports Competition
In recent years, information security has become a material issue of global national security. For strengthening the IS defense capabilities of enterprises and organizations and promoting exchanges between IS talents, SYSTEX joined hands with Taiwan Cyber Security Alliance and National Center of High-performance Computing to hold the 4th "Red Alert IS Attack and Defense Esports Competition". The 4th Competition is divided into 3 scenarios, including data rescue, system enhancement and IS data analysis, to improve the IS capabilities for data analysis and daily operation. A total of 48 people from 12 teams participated in online preliminary round, and 10 teams entered the finals.
The competition uses hacking methods to allow participants to simulate the actual IS problems encountered in the daily operations, improving their resilience when encountering threats. With actual combat experience, participants can also verify the enterprise IS protection network and find hidden IS problems.