Cultivate Software Talents
The rapid development of global technology has created opportunities and challenges for governments and enterprises, and stimulated the active promotion of digital transformation. Therefore, IT talents with professional skills and interdisciplinary functions are the key issue, making "strengthening Taiwan's core software capabilities to accumulate world-class talents" a social issue that SYSTEX is most concerned about.
Education is the foundation of a country's sustainable development. In response to the UNESCO's "2030 Education Vision" and the "2019 Curriculum Guidelines-Digital Learning Medium-term Plan" of Ministry of Education, SYSTEX fully communicates with students, external experts, schools, teachers and other stakeholders to plan a full-stage training program for each learning age groups, such as programming camps, practical projects, overseas visit, scholarships and internships, etc., hoping to cultivate more outstanding talents and improve the digital competitiveness for Taiwan.

[Invest NT$15M for Cumulative 7 Years]
Largest High School Programming Competition Held by a Single Enterprise in Taiwan
In order to improve society and environment with tech-capability, SYSTEX plans YTP to encourage young students to invest in the software industry. The program focuses on discovering potential young software talents, recruits employees to serve as activity volunteers and mentor volunteers for practical research, cooperates with professors, experts and scholars as practical research guides, and invites previous contestants to serve as competition reviewers. The close connection of these internal and external resources guides students to solve problems and to think about possible business model, enabling YTP to expand a virtuous cycle and deepen positive social impact.
The 7th YTP, held in 2022, not only continuously holds the competition for "senior-high-school category" and "junior-high-school category", but also new adds "overseas category", thereby increasing opportunities for deepening exchanges. In 2022, 223 senior high school teams, 50 junior high school teams and 16 overseas teams signed up, with a total of 840 participants from 171 domestic and foreign high schools.
In addition, in accordance with the global trend of gender equality and promotion for women's participation in the field of information engineering, SYSTEX designed the "Guaranteed Quota for Women" mechanism, allowing female participants who answer at least 1 question correctly in the online preliminary test to enter the "Programming Camp". As a result, a total of 136 female students participated in the YTP in 2022. Since the "Guaranteed Quota for Women" mechanism was launched in 2020, more than 100 female students have signed up for the YTP for 3 consecutive years.
2850
Cumulative participants
2523
Cumulatively contact
381
Cumulative SYSTEX volunteers
3 Stage
Stage 1 – Programming Camp
Stage 2 – Practical independent study
Stage 3 – Visit abroad
.
Inspiration
Free competitions and prizes are held to encourage students to continue their professional studies for the future.

Cultivation
Outstanding students passing the "Programming Camp" can get bonuses, scholarships, or opportunities to visit abroad.

Variety of Cultivation Resources
In order to cultivate young talents in a long-term and planned ways, and encourage them to innovate new businesses, enabling Taiwan information industry go global, YTP provides 6 major resources:

Connect Partners to Expand Social Impact
Integrate internal and external resources, join hands with students, SYSTEX employees, university professors and experts to participate in.
SYSTEX volunteer:

Promotion volunteers: SYSTEX employees serve as promotion volunteers to return to their alma mater for sharing experience.
Activity volunteers: SYSTEX employees serve as activity volunteers and question-producing volunteers at the Programming Camp.
Mentor volunteers: SYSTEX employees serve as mentor volunteers to use practical experience to lead YTP students to conduct practical independent study.

University professors:
Invite university professors, experts and scholars as practical research guides to bring academic knowledge into YTP students' research, enabling students to enhance both soft and hard capabilities of project implementation.
Previous contestants:


Invite previous contestants to give back, including assisting the competition in formulating and reviewing contest questions

, and sharing their own experience, so as to influence more young talents in a positive way.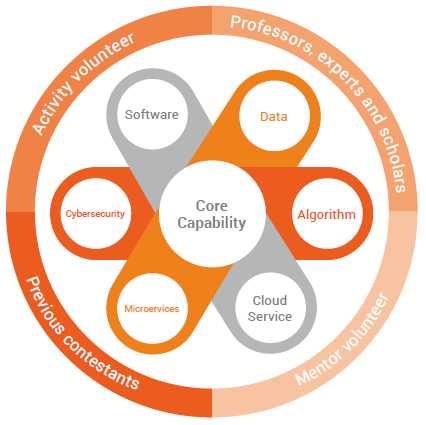 Record-high participants:


For the 7 consecutive years, a total of 2,010 students (965 teams) have participated in the YTP

. In 2022, the number of participants and teams hit a record high, with 840 students from 171 domestic and foreign high schools; among them,

38 contestants have ever been qualified as representatives of the Taiwan International Information Olympia Competition

.
University professors guided 12 groups of  practical independent study:
The 2022 teams performed excellent, with 12 teams conducting research on topics of Machine Learning, Natural Language Processing (NLP), AI, Big Data and Block Chain, etc. In 2022,

SYSTEX has invited 7 professors and experts

from relevant departments of NTU, NTUST and NTNU to guide students to creatively implement and solve social problems.

Over the past 7 years, a total of 16 university professors have participated in responding to the YTP

.
SYSTEX volunteers continue to participate:
SYSTEX encourages employees to serve as volunteers for the YTP every year, whether they serve as promotion volunteers for alma mater, activity volunteers assisting in the Programming Camp, or mentor volunteers assisting in practical independent study implementation, the number of responders continue to rise.

By the end of 2022, the number of SYSTEX volunteers has reached 381 and the number of high-school students contacted has reached 2,523

, allowing more high school students to know about the YTP program.
Encourage women to participate in IT competitions

Pay attention to gender equality issues, formulate the "Female Guarantee Quota Mechanism" to encourage female students to create unlimited possibilities for female power.

The "Female Guarantee Quota Mechanism" allows female contestants who answer at least one question correctly of online preliminary test to be eligible to participate in the "Programming Camp".

In the past 3 year, more than 100 female students have signed up every year.

In 2022, the number of female students increases to 136, with an increase of 34.7% compared to the previous year.

Reduce inequality in educational resources

Pay attention to equal opportunities, provide full transportation subsidies for students participating in the "Programming Camp" from the south of Taichung and Hualien, reducing the participation barriers.

In 2022, students from 18 counties have signed up, and the penetration rate in counties has reached 94.7%.

Integrate resources for IT education in southern Taiwan, and

sponsor the training fee for NTU sprout program

in 2022.

Donate NT$100K to SCIST composed of 13 schools in the south

to help deepen and promote IT learning in the south in 2022.
Provide a free competition platform for

NHDK Alliance composed of 4 senior high schools in the South

, encouraging their students to organize their own practice competitions.

Committed to cultivating world-class software talents

Provide multiple resources such as "Expert Teaching, Exchange Platform, Visit Abroad" to enable young students to improve their skills, and can solve problems from different perspectives.

Add "junior-high-school category" in 2021 and add "overseas category" in 2022

, stimulating more potential talents to interact with each other.

As of 2022, YTP has held the "senior-high- school category for 7 consecutive years, junior-high-school category for 2 consecutive years and the first overseas category", with a total of 2,850 people and 965 teams participating.




2022 Programming Camp




2022 Senior-high- school Category




2022 Junior-high-school Category




2022 Overseas Category
Cumulative Investment of NT$1.2M+
In order to inspire children's interest in software, SYSTEX held "Coding Seeds Camp", planning a programming course suitable for elementary and junior high school students, hoping to cultivate their software engineering thinking and programming skills in advance, and developing their self-learning, innovation, and practical problem-solving ability. SYSTEX also encouraged the children of employees and customers to participate in this camp, so as to strengthen the relationship with customers. The camp has been held for 4 consecutive sessions since 2017, with a total of 535 children aged 10~14 participating. In 2021 and 2022, the camp was suspended due to epidemic prevention.
~SYSTEX Elite Internship~
In order to allow students to understand the working mode of software engineers earlier, SYSTEX has connected industry and academia resources, and launched the "SYSTEX Elite Internship, SEI" program since 2014, providing more than 100 internship places for college students from the Department of IE or IM every year, so that they understand the actual work conditions before they graduated. Throughout the internship process, students can be trained by dedicated mentors to obtain practical training in the real workplace. Outstanding interns will be given priority in obtaining full-time job opportunities after graduation. Through the "SEI Program", SYSTEX helps students combine what they have learned with the industry, and also cultivates outstanding talents for SYSTEX itself and customers, so as to reserve a software talent pool for Taiwan!
Practical Courses by Supervisors: Senior executives of various business units impart practical experience.
Practical Independent Study: Each intern will present the results of a research report or software development demo by the end of the internship.
Corporate Visit: Arrange interns to visit startups or large enterprises.
Online Learning Platform Account: Provide interns with online learning platform accounts for various learning.
SYSTEX not only provides various internship activities, such as programming, product planning, etc., allowing interns to improve their working skills, but also increases interaction opportunities through irregular tech-lectures.
Broaden Participation of Target Schools:

Interns are mainly composed of students from the Department of IE, IM or Statistics, that is more in line with BU's needs than before.

Exclusive Experience Design:

Design corporate visit plans to broaden interns' views.
Provide interns with online learning platform accounts for various learning.
Make business cards for interns to increase their integration.

Good Satisfaction:

Through the 5-week SEI courses, activities and visits, interns are very satisfied with the courses, with a satisfaction rate of 98%.
Interns express their gratitude to their supervisors in the internship questionnaire.
The SEI program gives students an early experience in the workplace and helps them find their future career direction before graduation. In 2021, the SEI program was suspended due to epidemic prevention and resumed in 2022. Over the years since the SEI launched, a total of 179 SYSTEX mentors have supported the SEI, and a total of 577 interns have been trained.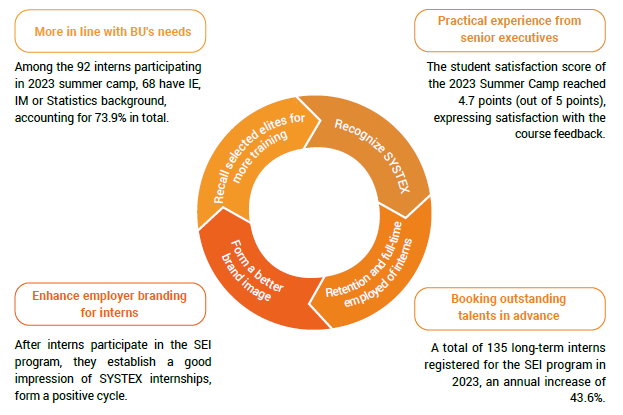 ~X School Software Academy~
In order to cultivate more outstanding software talents in line with industrial development trend, SYSTEX has held the 2nd "X School Software Academy" in 2022. SYSTEX provides 10~12 weeks of systemic pre-job training for young talents according to industry needs, and mentors would help them develop problem-solving and logical-thinking skills to accumulate experience. In 2022, a total of 55 people participated in the 2nd session of Intelligent Financial Software Training, including the practical courses of Java and .Net. During the training period, SYSTEX provided each person with a monthly study allowance of NT$30,000. After completing the training, they may receive a salary of more than NT$40,000.
Practice-oriented training:
SYSTEX plans a systematic syllabus, so that trainees can gradually lay a solid technical foundation.
Learning maps for various position:
Learning maps make trainees know the core skills of each position.
Motivation for mutual learning:
Work with classmates to solve problems and create possibilities.
Practical independent study:
Guide trainees to accumulate the capability of problem-solving and logical-thinking.
Elite mentors:
Assign elite mentors to share practical experience with trainees.
In a priority position:
As a leading enterprise in the IT service industry, SYSTEX fully understands the industrial trend.
~Industry-Academia Cooperation~
SYSTEX aims to accelerate innovative applications in view of the growing demand for diverse lT applications across industries by fostering world-class, cross-disciplinary professionals for the IT industry.
With the maturity of AI technology and the increasing demand for applications in the medical field,SYSTEX donated equipment worth more than NT$70M, including a "Genomics Analytics as a Service, GAaaS" and several high-speed network switch for "High Performance Computing", to build a world-class "Gene Analysis Laboratory" for National Yang Ming Chiao Tung University (NYCU). In 2022, SYSTEX deepened partnership with NYCU's Department of Biological Science and Technology, offering financial assistance to 4 Professional Master's students in Engineering and Computational Biomedicine with employment opportunities, recruiting medical and IT elites.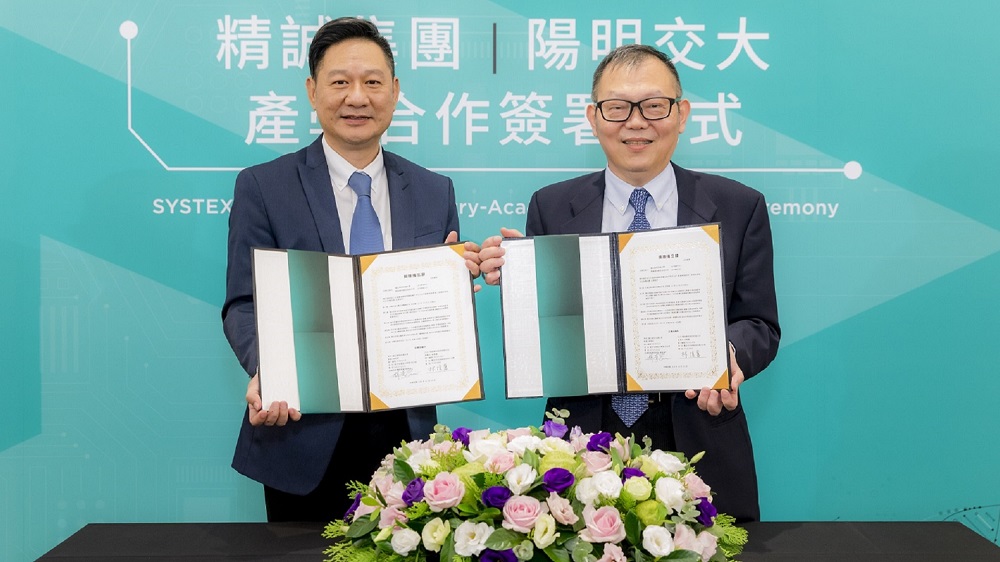 In addition, SYSTEX also deepened cooperation with NTUST's Advanced Intelligent Image and Vision Technology Research Center, offering financial assistance to 3 Professional Master's students in AI vision technology and employment opportunities.
~Campus Lectures and Corporate Visit~
In order to promote the inheritance and sharing of experience, SYSTEX held several campus lectures with its senior executives, enabling students to understand industrial trends and practical experience. The shared topics included "FinTech Development Trends and Application Cases", "New Trends in Digital Transformation and Tech-applications in industries", "Digital Transformation Brings a New Business Era", "From Digital Marketing to Data Marketing", "All Industries with Technology in the Future" and "Post-pandemic Retail Trends", etc.

In 2022, a total of 10 campus lectures were held, with a total of 690 participants.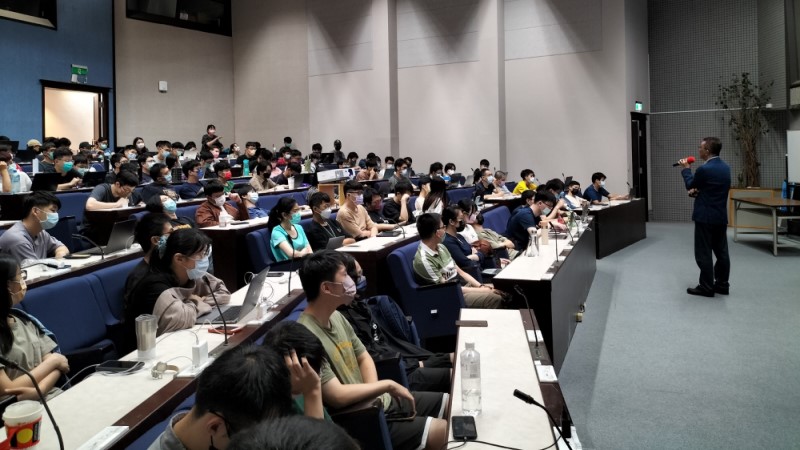 In 2021, due to epidemic prevention, the SYSTEX headquarters building was not open to the public for visitors, so that SYSTEX has only arranged 1 online meeting for the "Summer camp" of the computer information clubs of National Experimental High School at Hsinchu Science Park (NEHS), National Hsinchu Senior High School (NCHS) and National Hsinchu Girls' Senior High School (NGHS), with a total of 60 participants. In 2022, onsite corporate visits were resumed as the epidemic eases.

w Through on-site visits, visitors can learn about SYSTEX's working environment, CSR activities, and corporate culture. In addition, executives also shared their career experiences, enabling visitors to broaden their career plans.

In 2022, a total of 6 visit meetings were held, with a total of 344 participants.
Since 2020, SYSTEX has launch the "SYSTEX Cloud School" program for cloud and next-generation IT talents, connecting industry needs with academic talents, cultivating college students or master students who are willing to develop towards Cloud, AI, HPC. Therefore, SYSTEX provided 3-stage training courses, including 33-hour cloud basis courses, free quota for Red Hat certificate courses and the SYSTEX internship, so as to cultivate world-class cloud technology talents for Taiwan industries.
The basis courses of 2nd SEI invited professors from NTUST, NCU and FCU and other experts to teach the concepts of cloud and AIoT. A total of 163 students from 46 universities and colleges participated in the basis courses, an increase of 167% from 2020, and then 50 students were screened to enter the 2nd stage of certificate training. Ultimately, 22 students were selected for SYSTEX internships, working together with SYSTEX cloud experts.
In the 3rd session of SEI in 2022, SYSTEX invited professors from NTUST to cultivate a total of 63 trainees.
~Information Security Esports Competition~
In recent years, information security has become a material issue of global national security. For strengthening the IS defense capabilities of enterprises and organizations and promoting exchanges between IS talents, SYSTEX joined hands with Taiwan Cyber Security Alliance and National Center of High-performance Computing to hold the 4th "Red Alert IS Attack and Defense Esports Competition". The 4th Competition is divided into 3 scenarios, including data rescue, system enhancement and IS data analysis, to improve the IS capabilities for data analysis and daily operation. A total of 48 people from 12 teams participated in online preliminary round, and 10 teams entered the finals.
The competition uses hacking methods to allow participants to simulate the actual IS problems encountered in the daily operations, improving their resilience when encountering threats. With actual combat experience, participants can also verify the enterprise IS protection network and find hidden IS problems.