AGP helps AI Startups connect with customers and accelerate global business growth.
The Executive Yuan proposed a 4-year "Taiwan AI Action Plan" in 2018, and released a new 4-year "Taiwan AI Action Plan 2.0" in 2023, which is formulated to realize the program vision of "AI drives industrial transformation and upgrading, AI helps improve social welfare, and Taiwan becomes a global AI star." Therefore, joint investment from talent, technology, industry and other levels is needed to enhance the international influence of Taiwan's AI industry.
From past observations, Taiwan's AI startups with market potential often lack the key development elements of the overall ecosystem: investment in software and data. SYSTEX has focused on developing software and data ecosystems for many years. In order to help Taiwan's industry fill the gap in AI development, it launched the "AI+ Generator Program, AGP" in 2018, hoping to help AI Startups become more efficient in market expansion and customer go-to-market.
Sourcing:
AGP approaches Startup incubators.
Qualification:
Experts assess market potential of Startups.
Matching:
Facilitate cooperation with potential business partners.
Evaluating:
Provide business proposals to accelerate market evaluation.
Generating:
Open up the global markets to increase sales.
Matching AI Startups and Client Collaborations
To achieve business success, Startups not only have to invest in growth momentum, but also to build up contact network with customers. Startups participating in AGP can optimize business model with more than 50 executives and external experts, connect with more than 50 AI ecosystem partners of SYSTEX, and further reach more than 30,000 companies through SYSTEX customer matchmaking.
Connect with International Startup Resources
SYSTEX focuses on the "market evaluation and internationalization" of products of AI Startups. Through AGP, SYSTEX partners with external incubators, accelerators and innovation centers to help next-generation AI entrepreneurs to build better business foundation, and to connect enterprise clients with promising AI solutions. The cooperative incubators include "NTUTEC", "BIC, NTUST", "TTC, NCKU", "SparkLabs Taipei" and "BRIDGE TO MASSCHALLENGE", etc.
Finding Potential AI Startups
A total of 7 Startups were selected in 2022.
In order to provider enterprise clients with more diversified ESG solutions, the 5th AGP in 2022 selected 7 potential ESG-oriented Startups to join, allowing AGP to join hands with these Startups to provide ESG services in advance to help expand the scope of domestic and foreign business.
RPA:
The innovative RPA product with built-in browser automates repetitive computer tasks for businesses.
FlowVIEW:
Image-based liquid automation using nanofilm and AI can test micro-contamination, liquid samples, and water.
Biomedica:
Precise, fast AI-assisted medical screening can reduce false-negatives. DataSense workstation and codeless AI modeling offer integrated AI workstation solutions for regenerative and precision medicine labs.

Sightour:
Offer the AI-powered optical character recognition (OCR) solution ANYFORM. AI models, code-free interfaces, and seamless integration with enterprise systems enable fast, paperless document digitization.

COMMEET:
Taiwan's first cloud-based expense system, offering efficient reimbursement. Reimbursements include carbon emissions estimations using AI, simplifying ESG audits.
8iops:
Help businesses optimize public clouds to manage capacity, costs, and security risks with an efficient platform for visual monitoring, analysis, and alerts for administrators.
FiduciaEdge:
Edge computing security effectively reduces system-wide collapses from hacker attacks on edge nodes. Applications include cybersecurity deployment for large-scale terminal devices like urban infrastructure and factories.
Successfully Connect with Global Industrial Customers
A total of 36 Startups have been selected for 5 consecutive years.
AGP can help expand Taiwan's AI ecosystem and accelerate AI applications. A total of 36 Startups have been selected for 5 consecutive years and then achieved promising results after rigorous collaboration.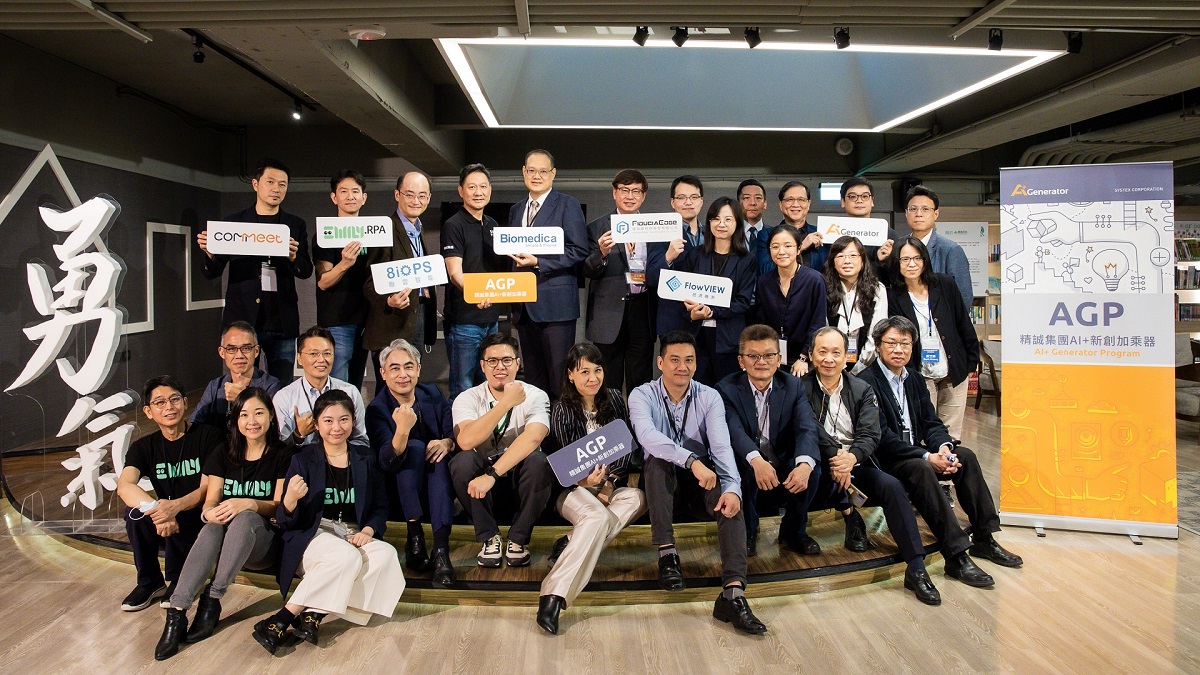 [Successful Case] @2021 Matching for Startup Teams
Mobile insurance and remote verification Solutions:
AGP combines the respective professional technologies of "iHH", "Authme" and "ioNetworks" to jointly provide mobile insurance and remote verification solutions for the life insurance industry.
Develop one-stop eKYC and anti-money laundering solutions:
AGP cooperates with "KryptoGo", who uses NLP technology to develop a one-stop eKYC, anti-money laundering solutions, and NFT wallets service for enterprise clients, thereby narrowing the distance with Generation Z customers.
AI system development platform:
AGP cooperates with "InfuseAI" to build an AI system development platform for semiconductor industry customers, bringing customers a more efficient AI development and learning environment.
Adhering to the sustainable spirit of "Tech for Social Good", SYSTEX organized "Action Intelligence for Social Good Award, AI4SG Award" program to encourage innovative teams and organizations to apply technology for resolving ESG issues in line with the UN SDGs. Since 2018, SYSTEX launched the first "AI4SG Award" to find and select several teams according to 4 criteria of "sustainability, influence, scale and action", hoping to expand the sustainable impact through rewarding and promoting their successful cases.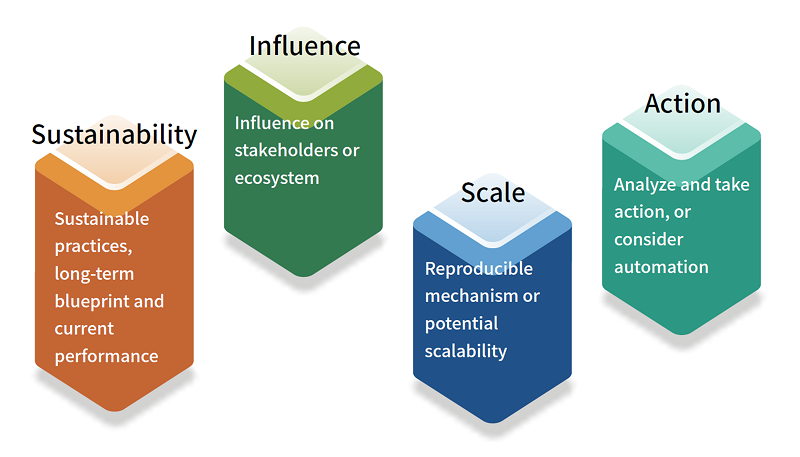 Partnerships for the Goals
SYSTEX has organized the 2nd "AI4SG Awards". The features of the winning projects include outstanding cases of supporting the sustainable development of agriculture, fisheries and animal husbandry, and helping people with severe disabilities to participate in society, and have received a prize of NT$50,000. Accumulated to the 2nd session, 10 teams have won awards and the 3rd is expected to be held by the end of 2022. In addition to offering prizes, SYSTEX also helps promote solutions for winning projects and connect with all business customers and ecosystem partners, and jointly solves ESG issues through technology applications, so as to jointly achieve sustainability in line with SDG 17.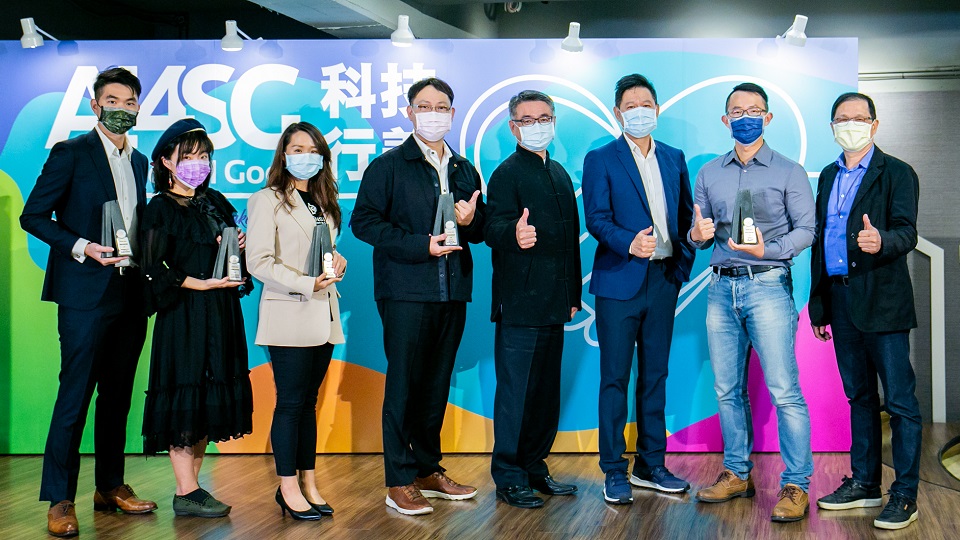 Rewarded PwC's Sustainability Impact Awards
In order to encourage companies and organizations to solve ESG issues through technology and promote social good, SYSTEX launched "AI4SG Award" to join hands with Startups and organizations to create positive impact on society and deliver their moving story. As a result, SYSTEX has been rewarded the 5th "2021 PwC's Sustainability Impact Awards – Technology Impact Award".