Professional Service Team
SYSTEX has a Project Management Office (PMO) to centrally manage its customers' projects and control project risks to ensure that the project manager (PM) can lead the project team to complete projects on schedule, on good quality and on budget, creating values for customers and providing high-satisfaction products and services.
Project Management
PMO regularly reviews and revises the PM-related systems such as "R&D Cycle" and "Rules of Project Assessment & Review Board", and formulates "PM Grading and Evaluation System" combined with training and certification to conduct PM evaluation for half a year and to reward outstanding PMs. In addition, SYSTEX continues to carry out PM-related training courses and invites senior PMs to educate practical experience, so as to improve management capabilities of junior PMs and enrich their minds. In 2021, a total participants of PM training courses were 232 with a total of 2,820 training hours.
In order to set up a high-quality PM management team, PMO promotes the "PMP Training Courses". At present, SYSTEX has obtained 80 PMP/ACP certificates, serving as a strong professional PM team.
Project Management IT System
SYSTEX has built a project management platform, through BMS and online tools, to conduct risk assessments, master project progress and track abnormal projects, and further to hold review meetings timely, providing sufficient resources and assistance.
Outsourced Project Audits
PMO formulates the "Rules of Outsourced Project Management" to assist in the progress of project filing and revision and hold audits regularly in order to conduct supplier assessment and manage project acceptance.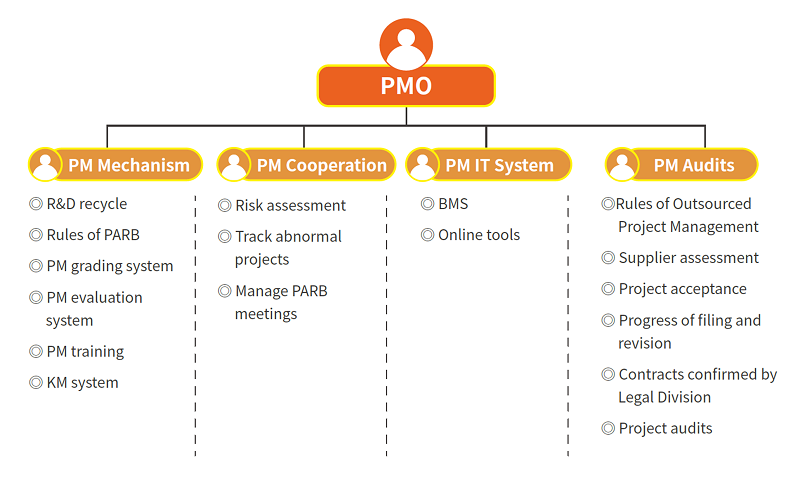 As the largest IT service provider in Taiwan, SYSTEX undertakes projects across in various fields, ranging from small to large and complex, accumulating more than 30,000 customers. In order to manage projects effectively, SYSTEX has developed a project management mechanism, built a related IT system and platform, so that PMs and team members can manage and evaluate the current status of projects to execute more smoothly. Since the project inception, the project teams collaborate with skills and solutions to ensure the delivery of high-quality products and services, and strictly manage budgets and risks through outsourced selection and assessment mechanisms. PMs also hold regular project meetings to maintain good relationship with customers during execution, and hold an acceptance meeting before the end of the project. Finally, project performance is reviewed against system data and then appropriately maintained in the PM system as the organizational assets.
PMO checks the implementation of projects, finds abnormal status in advance to adjust the project risk level timely through the management system, and formulates lessons learned for abnormal projects, and cooperates with advocacy meetings to strengthen experience exchanges and improve their ability for provision of high-quality products and services.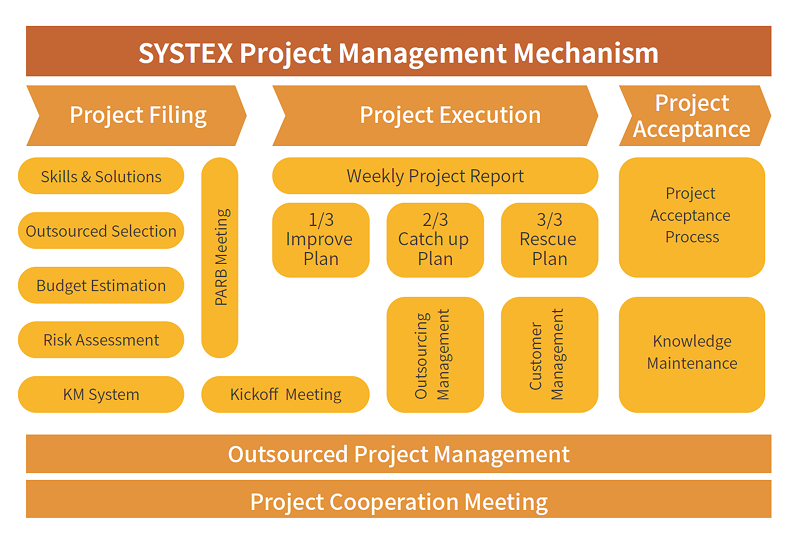 Be the Best Sustainable Partner of Customers
SYSTEX not only provides professional services, but also actively meets with customers' requirements for sustainable development, so that SYSTEX has been awarded by customers, such as Excellent Supplier from China Development Financial Holdings for 2 consecutive years, Supplier ESG Model from Yuanta Financial Holdings, and Best distributor of Microsoft PURE STORAGE of the year, establishing a solid long-term partnership with customers.