Professional Service Team
SYSTEX has a Project Management Office (PMO) to centrally manage its customers' projects and control project risks to ensure that the project manager (PM) can lead the project team to complete projects on schedule, on good quality and on budget, creating values for customers and providing high-satisfaction products and services.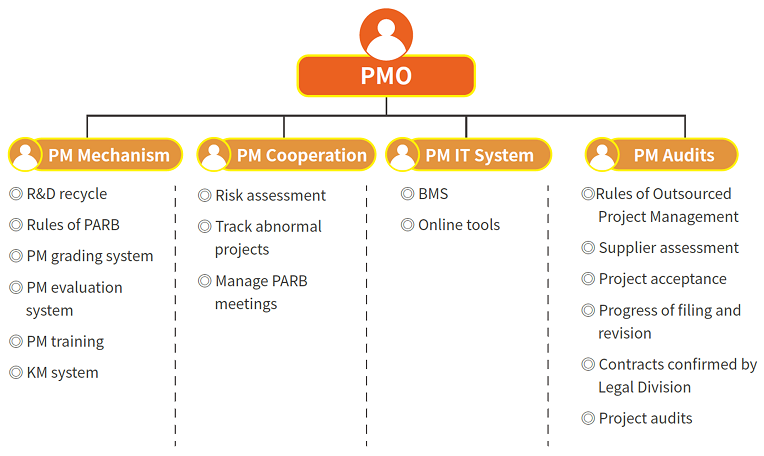 PMO is responsible for formulating project management methods, standards and processes to ensure effective project execution and reduce potential risks. In addition, PMO regularly reviews and revises the PM-related systems such as "R&D Cycle" and "Rules of Project Assessment & Review Board", and formulates "PM Grading and Evaluation System" combined with training and certification, to evaluate PM performance every 6 months and reward outstanding PMs.
Project Management IT System
SYSTEX has built a project management platform, through BMS and online tools, to conduct risk assessments, master project progress and track abnormal projects, and further to hold review meetings timely, to provide sufficient resources and assistance, thereby improving project efficiency and effectiveness, and objectively evaluating project execution performance.
Outsourced Project Audits
PMO formulates the "Rules of Outsourced Project Management" to assist in the progress of project filing and revision, and carry out audits regularly in order to conduct supplier assessment and project acceptance management, thereby measuring the execution capabilities of outsourcing suppliers and assessing potential risks to ensure that they can deliver expected results on time.
Project Management Training
SYSTEX continues to carry out PM-related training courses, inviting senior PMs to educate practical experience in order to improve management capabilities of junior PMs and enrich their minds. In response to customers' demand for cloud services increase, SYSTEX has carried out the compulsory general training on "PM Cloud Technology" since 2022 to equip all group PMs with cloud expertise to enhance the ability of hybrid multi-cloud architecture to meet customer needs.
In 2022, a total trainees of PM training courses were 1,501 with a total of 10,036 training hours. In order to set up a high-quality PM management team, PMO promotes the "PMP Training Courses". At present, SYSTEX has obtained 102 PMP/ACP certificates, serving as a strong professional PM team.
2022 PM training courses trainees
Obtained PMP / ACP certificates
As the largest IT service provider in Taiwan, SYSTEX undertakes projects across in various fields, ranging from small to large and complex, accumulating more than 30,000 customers. In order to manage projects effectively, SYSTEX has developed a project management mechanism, built a related IT system and platform, so that PMs and team members can manage and evaluate the current status of projects to execute more smoothly.
Since the project inception, the project teams collaborate with skills and solutions to ensure the delivery of high-quality products and services, and strictly manage budgets and risks through outsourced selection and assessment mechanisms. PMs also hold regular project meetings to maintain good relationship with customers during execution, and hold an acceptance meeting before the end of the project. Finally, project performance is reviewed against system data and then appropriately maintained in the PM system as the organizational assets.
PMO checks the implementation of projects, finds abnormal status in advance to adjust the project risk level timely through the management system, and formulates lessons learned for abnormal projects, and cooperates with advocacy meetings to strengthen experience exchanges and improve their ability for provision of high-quality products and services.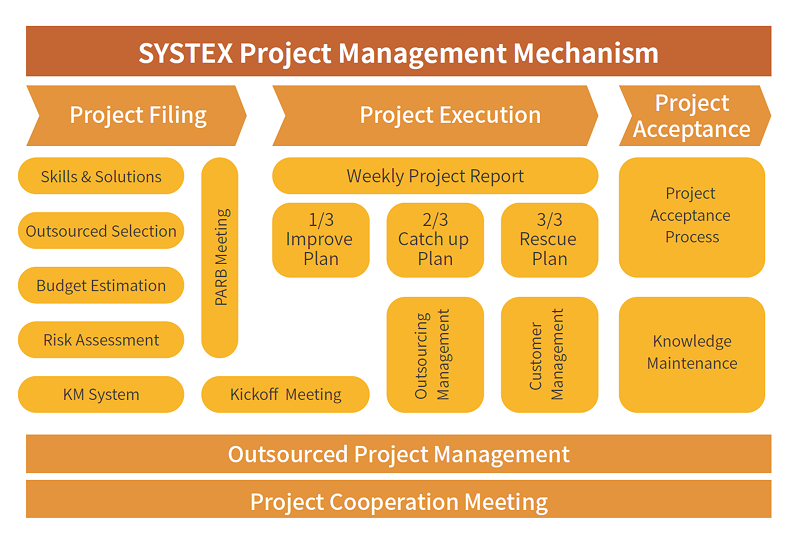 Be the Best Sustainable Partner of Enterprise Clients
In addition to professional services, SYSTEX Group also actively responds to clients' concerns about sustainable issues, and jointly raises awareness of promoting sustainable affairs. In 2022, the Group filled in a total of 390 supplier sustainability audit questionnaires and conducted 39 on-site audits to meet customer needs.
In 2022, SYSTEX Corp. was recognized for the sustainable suppliers awards by Fubon Financial Holdings, Far EasTone, and Taiwan Mobile. The ESG management of SYSTEX SOFTWARE & SERVICE, CONCORD, and NEXSYS has also been recognized by Shin Kong Bank.